MURDER FROM BEYOND THE GRAVE
TO ORDER CLICK COVER BELOW
This new adult book is about Kaila Porter as she starts her career as a Police Officer in small town Cremona, Alberta.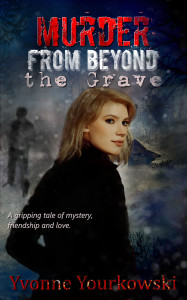 Officer Kaila Porter gasps for breath as she stares at the mutilated corpse of her mentor.  It has been years since the town, or herself, has seen a body.  Struggling to move past the devastation, with no clear motive for the vicious attack Kaila doesn't see the stalker dodging her every step.
When the only suspect shows up dead Kaila is plunged into the midst of the criminal world. Suspecting a leak in the department, Kaila strives to connect the two victims, one, a beloved woman of the community and the other a newcomer.  She tries staying one step ahead of the killer, and finds extraordinary courage to defy the conspirators who attempt to kidnap her and sabotage the investigation.
The town is in an uproar demanding protection.  She must stop the deadly string of murders before she's next, or is she too late.